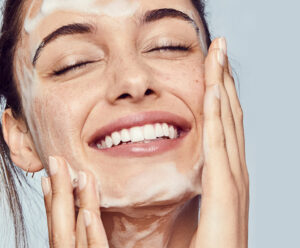 How

Important for daily cleansing?
To wash off the dirt, makeup, excess oil, dead skin cells, and environmental impurities through out the day.

Regular cleansing is essential to keeping your skin looking healthy.

Cleansing helps maintain proper pore size.

Cleansing encourages proper skin hydration and prevents the production of excess oils.

Cleansing helps later skincare treatments work properly. 

Gel Cleanser is Deep Cleansing & Gentle Exfoliation
A gel cleanser is the most powerful for

eliminating surface oil and acne-causing bacteria,

offering a deeper clean than other options.

By unclogging your pores with a mild formula.

Oily skin needs the power of a cleansing gel to cut through excess oils and leave the skin feeling fresh.

Maintain a perfect water and oil balance of your skin, it is important that you don't strip your skin of

its

natural oil (Coconut Oil)

completely.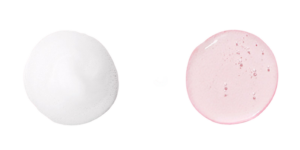 Gel VS. Foam Cleanser
Gel Cleanser
Suit for oily and acne-prone skin

Designed for deep cleansing. Use in the night.

Good for unclogging pores while removing excess oil and acne-causing bacteria
Foam Cleanser
Suit for non-oil skin

Designed for light-cleansing. Use in the morning.

To refresh your skin, remove dirt left on your face, and keep your skin feel healthy. In order to start makeup.
15% Amino Acid + Plant Extracts
"AMINO ACID" is being recognized as the best and the most gentle facial cleanser ingredients by the world skin specialist experts. Its biggest feature is being very effective for cleaning the skin also it is gentle, skin-friendly, low-irritation, suitable for children and sensitive skin.
Whether produced internally or applied topically, amino acids help to strengthen the immune system, maintain the skin's hydration, resilience and an overall healthy appearance. They protect skin from free-radical damage and reduce signs of aging.
Hydrating & Moisturizing
Trehalose

,

helps to moisture the skin

, trapping moisture into the skin. It also acts an antioxidant helping to protect the skin from sun damage and aging.

Allantoin

, helps heal the skin and stimulate the growth of new tissue, also make your skin feel hydration.

Panthenol (B5)

, helps improve skin's hydration, elasticity, and smooth appearance
Brightening & Glowing 
Niacinamide (Vitamin B3)

, helps

whitening & brightening your skin tone

, deals with acne, signs of aging, dry or dull skin or even have stubborn dark spots

Ascorbic acid (Vitamin C)

, helps improve skin tone and texture, hydrate the skin, and reduce signs of aging. It can encourage new collagen to grow. It also helps maintain the collagen you do have and protects the precious protein from damage.

Jojoba Seed Oil

,  helps you avoid breakouts as well as promote healing for mild acne. It is also a natural and safest way to lighten and whiten skin tone. 
Anti-inflammation &  Anti-bacteria
Formulated with multiple plant extracts

,

i

ncludes Spiraea Ulmaria (Meadowsweet) Extract, Ulmus Fulva (Slippery Elm) Bark Extract, Centella Asiatica Extract, Chamomilla Recutita (Matrica) Flower Extract, Glycyrrhiza Glabra (Licorice) Root Extract,

Camellia Sinensis Leaf Extract

, Polygonum Cuspidatum Root Extract, Rosemarinus Officinalis (Rosemary) Leaf Extract, Scutellaria Baicaliensis Root Extract

All of plant extracts are good for skin health, also

possesses anti-inflammatory, antibacterial and astringent properties.

They make the gel cleanser more gentle and aids-in skin hydration and suitable for oil/acne-prone skin.
Ask us for your own Private Label Gel Cleanser, Amino Acid Cleanser professional lab team to customize formula and smell, sales@venturescosmetic.com