Why do you need Toner/Spray?
Toner removes any last traces of dirt, grime and impurities stuck in your pores after you wash your face.

It can have major positive impact on the appearance and tightness of your pores.

Toner also restores your skin's pH level, smooths skin by refining rough patches and improves skin tone, and make your skin looks healthy and glowing.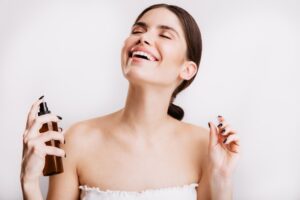 Who should need & when do you use?
Everyone! But oily skin is definitely needs it, because

toner goes the extra mile to clean out and close-up pores.

 

When it comes to glowing, healthy-looking skin, toner is a key step in your routine.

Use in the morning after washing your face, your skin will be clean and hydrate, that will be easy to start makeup, also keep your makeup whole day. 

Use at night, after washing your face, and the first step of your skincare routine, so it will help serum, cream and other products to penetrate into your skin. 
Best Selling Vitamin B5 Toner
Designed to make your skin hydrating, moisturizing and brightening, adds

Vitamin B5, Hyaluronic Acid, Algae Extract, Red Seaweed, Allantion, and Pullulan.

They are

rich in protein, vitamins and antioxidants,

have outstanding moisture-retaining properties.

Promotes a healthier skin barrier and helps replenish the skin's natural hydration.
Form of Toner
Liquid toner in the Plastic Pump Bottle like La Mer The Tonic Toner or SK2 Pitera Toner in the Glass Bottle.

You also can put liquid toner in the spray bottle in order to design as spray toner, facial mist, like La Mer Revitalizing Facial Spray.  
Private Label Your Own Toner, Mist, Spray now, we do have same SK2 bottle and La Mer bottle, we help you start from formula, package, design and production, one-stop turnkey solution and offer small qty to start your brand 500pcs.