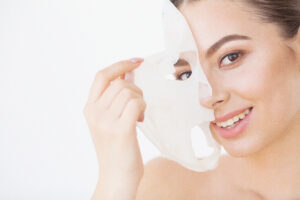 Why the market for skin whitening is growing?
Yet whitening remains popular—and is big business. According to industry estimates, the global skin whitening industry is expected to reach US$31.2 billion by 2024. Whitening products are growing in the market, especially the Asia, and India. 
Most Popular Whitening Ingredient 
Ascorbyl Glucoside (Vitamin C)
It absorbed by skin breaks down to vitamin C, which is a highly effective for skin whitening. Also, it improves collagen synthesis and reduces wrinkles.
Niacinamide (Vitamin B3)
Helps ease redness from eczema, acne, and other inflammatory skin conditions. Minimizes pore appearance. Keeping skin smooth and moisturized.
Oligopeptide-68 (Whitening Peptide)
Stimulate skin growth and repair. A skin-brightening peptide that is claimed to have a unique mechanism of action on lightening both constitutive (our default skin color) and facultative (such as tanning) pigmentation. It works by inhibiting the MITF gene that plays an important role in controlling melanin producing skin cells called melanocytes.
Retinol
The benefits of retinol for your skin include fighting acne and reducing wrinkles and dark spots. Retinol helps reduce the appearance of acne by increasing cell turnover and decreasing oil. It also boosts blood flow to the skin, which increases the production of collagen.
Arbutin
It is a safe skin-brightening ingredient that targets hyperpigmentation and dark spots to reveal a younger looking skin. It does not permanently bleach your skin, it brightens your skin by slowing down the melanin production.
Shea Butter Oil 
Its high concentration of vitamin E, shea butter is a potent skin lightener. There are many essential oils on the market that are recognized as useful in achieving even skin tone, dealing with hyperpigmentation and lightening dark areas.
Rose Water 
Rose water for skin is known for its ability to balance natural oils, reduce the appearance of temporary redness, hydrate your skin naturally, provide antioxidant protection, diminish the look of fine lines and wrinkles, create a smoother looking appearance, minimize the appearance of large pores, temporarily tighten skin, to give you a whitening skin.