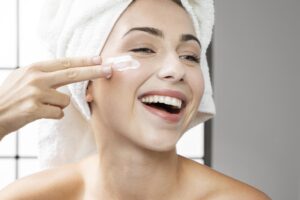 Why Moisturizing Your Face Is So Important
Moisturizing your skin is important to help prevent further breakouts and wrinkle. When your skin is dry and irritated, it actually causes breakouts and acne, also if your skin are dry, it would make fine line. By moisturizing your skin, you can reduce your chances of any skin problems arising, and with enough moisture, to have younger look, which prevent your skin dry, grow fine line or wrinkle. It is an important step to maintain your skin's healthy cells.
Aim for ingredients like hyaluronic acid and other effective material, which help keep skin hydrated, help attract water to your skin, and lock in moisture. There are tons of moisturizing ingredients you can choose, we can customize and formulate for you by your request. We always have special marketing point and idea for you to create your unique concept. 
These are the best, most effective ingredients you should look for in your product
Hyaluronic Acid
Contains an active moisturizer to support the elasticity of your natural collagen. It is high in moisture to address skin dryness and leave the skin moisturized & healthier.
Allantoin
Keeps your skin moisturized and prevents dryness and irritation, also makes your skin calm & smooth.
Panthenol(Vitamin B5)
Helps to keep skin soft, smooth, and healthy. It also has an anti-inflammatory effect that can help stimulate your skin's healing processes. Deeply hydrating, it helps to keep skin quenched by absorbing moisture from the air (clever!)
Antarcticine with Salicylic Acid (Pseudoalteromonas Ferment Extract )
Antarcticine is derived from Pseudoateromonas Antarctica, a dermal glycoprotein that improves skin rejuvenation by targeting the natural regeneration process. Improve overall hydration and plump up aging skin. Sunken-in areas retain more water, plumping out areas with volume.
The natural protective functions of trehalose help to prevent skin and hair damage caused by exposure to harsh environmental factors like UV radiation, pollution, smoke, and irritants. Additionally, trehalose protects collagen-producing cells from dehydration, helps to moisture the skin, trapping moisture into the skin.
Aloe Barbadensis Leaf Extract
Aloe barbaensis leaf juice is a great moisturiser, anti-bacterial and many anti-inflammatory properties making it a potent ingredient for healing wounds, reducing any signs of sunburn and helping dehydrated skin to lock in moisture.
Chamomilla Recutita (Matrica) Flower Extract
It is often used in skin care formulations for it's soothing and anti-inflammatory effects. It has also shown to offer wound healing and natural skin moisturizing benefits to the skin.
Jojoba Oil
It is a natural oil to nourish your skin, has anti-inflammatory properties which help to tame chaffing and chapping, reduce redness caused by drying, ease the effects of eczema and rosacea.