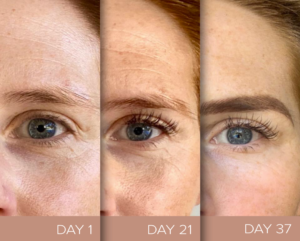 Most Effective Anti-Aging Ingredients for Your Skin
Each of the top ingredients gives skin a youth boost in slightly different ways, like Peptide is a short chain of amino acids. These short amino acid chains are one of the most promising anti-aging treatments because they can penetrate the top layer of your skin and send signals to cells to produce more collagen. This makes your skin firmer, smoother, and more youthful-looking. Choose your own preference ingredients to create your own story for your anti-aging skin care products. 
Popular Anti-Aging Ingredients List
Collagen (Fish)
Collagen is a major component of your skin. It plays a role in strengthening skin, plus may benefit elasticity and hydration. It helps slow the aging of your skin by reducing wrinkles and dryness.
Niacinamide
It is one of the best studied cosmeceuticals for anti-aging. It has a multitude of effects for helping smooth and heal your skin. Niacinamide has been show to lighten dark spots on the skin (brightening), decrease wrinkles and has extensive antioxidant activity.
Glycolic Acid
It is the most popular alpha-hydroxy acid (AHA) used in skin care. Glycolic acid is a fantastic anti-aging agent that seems to do it all. It's very effective at exfoliating skin and reducing fine lines, preventing acne, fading dark spots, increasing skin thickness, and evening out skin tone and texture.
Silkworm Cocoon Extract 
Genetically-engineered silkworms produce collagen alongside silk. When silk extract is applied to the skin with other ingredients, it absorbs the sebum, toxins, and keratinaceous debris. At the same time, the active compounds leech out and get into the deeper layer of the skin.
Tocopheryl Acetate(Vitamin E)
Vitamin E protects cell membranes from damage by oxygen free radicals. It can prevent premature aging of the skin induced by UV irradiation and lipid peroxidation.
Apple Stem Cell
The extract derived from the plant cell culture technology is being harnessed as an active ingredient in anti aging skincare products.Stem cells can play a crucial role in delaying the aging process. Stem cells, in combination with anti-aging genes, can create a sophisticated shield, which can prevent the effects of aging. Increased wear and tear of the body's natural stem cells, increases cellular damage, and accelerate the natural process of aging.
Acetyl Hexapeptide-8
It's primarily used as an active ingredient in anti-wrinkle and anti-aging creams or serums. It's designed to reduce wrinkles around the mouth and eyes, and on the forehead and cheeks among other areas.
Snail Secretion Filtrate
Great hydrator for the skin that helps improve skin texture, tone, hyperpigmentation, and scars. In addition to these effects, snail slime also has anti-aging properties that can help reduce fine lines and wrinkles.
Caviar Extract
It is an emollient active ingredient primarily benefiting the skin by boosting hydration, moisture levels, and plumping of fine lines, while reducing inflammation and protecting against oxidative damage thanks to its antioxidant properties—notably vitamin E and selenium.
Beta-Glucan
It is suitable for all skin types including acne-prone skin due to its bacteria-fighting properties, It is clinically proven to significantly reduce redness, speed up the acne healing process, and soothe irritated skin.