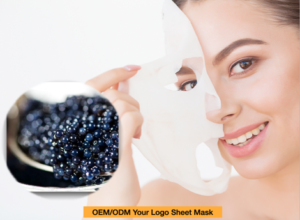 What is the Skin Benefit from Caviar?
Caviar extract is an emollient active ingredient primarily benefiting the skin by boosting hydration, moisture levels, and plumping of fine lines, while reducing inflammation and protecting against oxidative damage.
Caviar has antioxidant properties that protect and nourish the skin, and it also contains omega-3 and 6 fatty acids, which moisturize and improve skin texture. Caviar is a highly effective moisturizing agent, in fact, and is primarily used to hydrate the skin and make it more soft and supple.
Extremely Nourishing Caviar Tencel Sheet Mask 
We use the tencel sheet that is super thin and biodegradable material and formulated with active ingredients like Vitamin B3, Vitamin B5, Vitamin E oil and Hyaluronic Acid. It is the oil base type of mask, after using the mask, you will feel your skin very nourishing, feeling soft and healthy glowing.
We do have our professional R&D team to support you and create the unique formula for you. Start you own facial mask with LOQ MOQ.