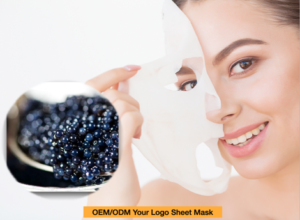 Extremely Nourishing Caviar Tencel Sheet Mask 
We use the tencel sheet that is super thin and biodegradable material and formulated with active ingredients. Glyceryl Glucoside & Vitamin B5 to repair your skin, which damaged by air-pollution, sun, and racer. Adds caviar extract, Vitamin E Oil and Sugar Squalene , they are powerful anti-oxidant ingredients, that boosts the function of mitochondria in skin cells, and to reduce free-radical. After give your skin rejuvenate, then we add moisturizing ingredients to hydrate your skin.
It is the oil base type of mask, after using the mask, you will feel your skin very nourishing, feeling soft and healthy glowing. It is suitable for after face-treatment, especially for clinic or spa/salon brand.
Highly Anti-Aging
Caviar
Caviar extract is an emollient active ingredient primarily benefiting the skin by boosting hydration, moisture levels, and plumping of fine lines. This helps to prevent against collagen and elastin breakdown. It works wonders on lessening the appearance of wrinkles.
Caviar extract contains antioxidant properties to protect skin against dangerous UVA and UVB rays, and it also contains omega-3 and 6 fatty acids, which moisturize and improve skin texture. Caviar is a highly effective moisturizing agent, in fact, and is primarily used to hydrate the skin and make it more soft and supple.
Repairing
Vitamin B5
Vitamin B5 helps the skin to attract and retain moisture, while providing protection, aid the retinol healing process and enhancing the natural repair process.
Glyceryl Glucoside
Promotes AQP3 mRNA and protein upregulation and improves skin barrier function, and offers repairing treatment.
Anti-Oxidant
Vitamin E Oil
Important fat-soluble antioxidant and has been in use for more than 50 years in dermatology. It protects the skin from various deleterious effects due to solar radiation by acting as a free-radical scavenger.
Sugar Squalane
Squalane produced from sugar cane via sucrose fermentation is sometimes referred to as "sugar squalane". An initial fermentation of sucrose using yeast generates farnesene.
The antioxidants in these oils also fight skin damage and free radicals, which can both accelerate the aging process and a detoxifier. Also, it helps it protect skin's oil, a process that damages skin's surface and deeper in the pore lining where oil originates. Boosting hydration can help your skin appear more vibrant and healthier. 
Nourishing
Caprylic/Capric Triglyceride
Made from combining coconut oil with glycerin. It helps restore the skin's protective barrier while replenishing moisture, leaving skin soft and smooth. To retain moisture and prevent dryness.
Moisturizing
Sodium Hyaluronate
Hyaluronic acid works by absorbing moisture like a sponge, so when applied to dry skin in a dry climate, it absorbs moisture from the skin instead of pulling it toward.
β-Glucan
Beta glucan is a humectant (similar to hyaluronic acid) that not only locks in essential hydration, but also prevents moisture loss. ANTI-AGER, Beta glucan is also a collagen booster.
Pullulan
It contains complex sugars known as polysaccharides, which makes it a good water-binding agent (i.e. hydration) and antioxidant in skin care products. It is proven to work well as a "carrier" for other skin care actives, effectively delivering the ingredients where they need to go.
Brightening
Vitamin B3
Niacinamide helps hydrate skin, treats hyperpigmentation, promotes skin elasticity, decreases redness and blotchiness and acts as an antioxidant, fighting free radicals. Offers fading age spots, lightening and whitening of skin. 
Cucumis Sativus Fruit Extract
Cucumber extract hydrates, brightens and soothes the skin. Its refreshing properties can reduce puffiness and relieve itching, as well as help to ease redness.
Glycyrrhiza Glabra (Licorice) Root Extract
Contains compounds called liquiritin and licochalcone, both of which inhibit your body from making tyrosinase. This slows down the process where your skin produces melanin, so over time, your skin can become lighter
We do have our professional R&D team to support you and create the unique and amazing formula for you. Start you own facial mask with LOQ MOQ.