Blue light from your phone is killing your skin
In case you were wondering how much your screen time has increased since the Covid-19 lockdown began!!
The visible light emitted from the sun ranges in the wavelengths of 390 nm to 700 nm. UVA and UVB, on the other hand, fall under invisible light but that doesn't mean it isn't damaging your skin, just because you can't see it. The latest controversial light in skincare is High-Energy Visible (HEV) Light or blue light, the wavelength of which ranges from 380 nm to 500 nm. "HEV Light is the light emitted from our cell phones, computer screens, certain types of light bulbs and so on and is now known for damaging to our skin health," explains Dr Bijlani.
HEV light leads to skin damage in multiple ways, namely pigmentation, dark spots, free radical damage (free radicals are unstable molecules that can cause damage to our cells in the form of oxidative stress), which will speed your skin aging.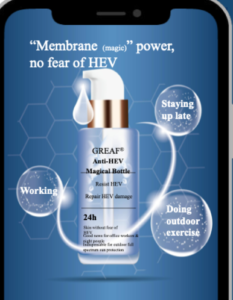 Our Anti-Blue Light Skincare Concept For Your Own Brand Product
The luxurious Anti-blue light treatment is formulated by Urbluray, Ectoin®  and Niacinamide. Both are effective for against blue light or sun damage.

Also adds Peptide & Apple Stem Cell, to help smooth the appearance of wrinkles, dark circles after sun damage, while whitening effect ingredient to grow the skin.
Urbluray MS (Medicago Saiva Extract)
Is a fully restorative material from a natural plant source, an efficient anti-blue light material which

can not only defense against blue light, but also repair the skin damage caused by blue light and UV.

Makes antioxidants into skin care, helps shield you from the negative effects of free radicals and clean them.
bitop Ectoin® natural
Ectoin® natural is a powerful cell protection molecule and completes sun-protection formulations. It does not act on the skin surface like a UV-filter, but it protects the skin on the cellular level

against UV, IR-A and visible/blue light

for a comprehensive protection approach.
Ectoin® natural shows strong

anti-pollution efficacy

. It reduces and soothes allergic reactions and thus is

perfect for sun-protection formulations for highly allergic skin.
Niacinamide
Helps build keratin, a type of protein that keeps your skin firm and healthy, protects against sun damage (blue light) also fine line, keep skin smooth and moisturized.
Swiss Apple Stem Cell
MALUS DOMESTICA FRUIT CELL CULTURE (apple stem cells) to protect skin stem cells, it can highly improve your wrinkle, darkness, help anti-aging.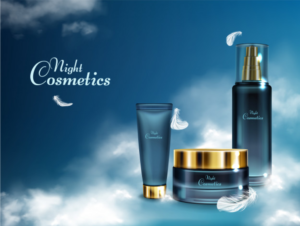 We are creating the new concept for skincare product line, the anti-blue light skincare series. It is very important for modern life demand, since we are using phone and laptop everyday, our skin is damaged from blue light. We will customize your own formula and add effective ingredient to help you create your own anti-blue light facial mask, anti-blue light spray, anti-blue light serum and anti-blue light facial cream.  Ask Ventures Cosmetic to ODM Private Label Your Own Anti Blue Light Skincare.