Vegan, Cruelty-Free, Fruity Oil 
Not quite a balm and not quite a gloss, lip oils are essentially nourishing tubes goo infused with a myriad of oils multitask with the finish of a shiny, tinted gloss and the moisturizing benefits of a balm.
It is made with a blend of pure plant extracts oils, Vitamin E oil, and shea butter to coat lips in a slick-yet-smoothing. Adds Q 10 to boosts moisture, to make your lip incredible moisture and shine.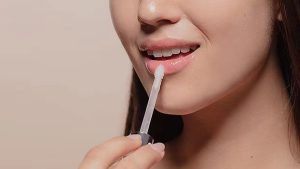 Vitamin E oil to nourish 
Topical vitamin E oil can be used to relieve chapped, dry lips.
Since vitamin E promotes cell turnover and regeneration, using it on dry lips

generate new cells to the surface faster

.

The thick and oily consistency of vitamin E oil can also prevent further irritation.

To nourish your lip and making your lips softer.
Multiple Plants Extract Oil to renew lip skin  
Orange Peel Oil + Sunflower Seed Oil
They are natural and very healthy way to produce moisturizing emollients for lips.

Orange 

oil

has amazing benefits and is not only known for reducing inflammation but is a natural anti-bacterial.
At the same time antioxidant properties of sunflower oil can

help in preventing premature signs of aging.

Helps to smooth and

prevents wrinkles on lips.
Echium Plantagineum Seed Oil + Shea Butter Oil
Echium Oil boost the production of collagen and helps repair the lip's protective barrier, which

improves hydration, reduces roughness, clear acne, heal scars.

Shea Butter is said to have anti-inflammatory properties and is often used to heal and prevent chapped lips.

Leaves lips soft and supple.

Helps to induce a soothing effect for dry, uncomfortable skin.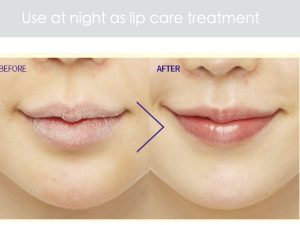 Moisturizing Ingredients to give you baby lip
Cardiospermum Halicacabum Flower Extract
It moisturizes the skin, relieves irritation and soothes itchy, reddened skin, to avoid dry lip skin.
Swertia Chirata Extract
Helps support the tone and texture of skin by supporting cell turnover, revealing younger, more resilient skin. It also helps thicken skin, reducing the look of fine lines and wrinkles.
Q10
It provides skin and with it helping to support the production of collagen, it is a highly effective ingredient in oil that help to fight the signs of aging lip and make you look young, and baby lip.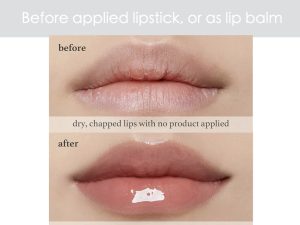 You can use as a lip care treatment at night, or use as a lip balm to moisture your lip before lipstick. To have a smooth, gorgeous, sexy and shinny lip. We formulate with all vegan, paraben-free, cruelty-free ingredients, all plants extract oil and active hydrating material.