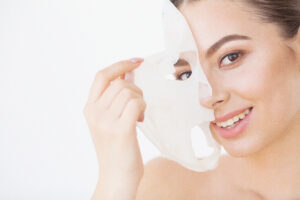 Eco-Friendly & High-Quality Lyocell Fiber
Tencel® sheets feel silky smooth and have a sheen, making them feel good. They are a perfect choice for hot sleepers and those living in warm weather like South Asia, because this breathable fabric, wicks away night sweats. The absorbent feature of this luxury fiber makes it hypoallergenic as well.
Benefit of Tencel® Sheet Mask
1. Made from Pure Plant Fiber
No Chemical Material, Safety and environmental protection.
2. High Water Absorption
10 times water absorption, helps serum penetrate into skin and lock the moisture.
3. Smooth to Skin & Great strength
Ultra thin and minimize skin irritation, which is very gentle feeling, also perfect fit to your skin.
You can customize your own tencel facial mask with your ideal active ingredients, also we can supply the raw tencel sheet for you to fill serum at your facility as well. We offer the dry sheet and fold in the pouch.