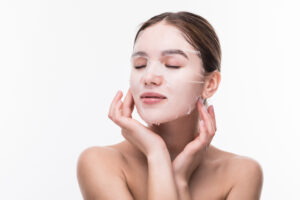 100% Natural & Biodegradable Bemliese™ Mask 
Asahi Kasei's sustainable non-woven fabric Bemliese™ has been certified as "OK biodegradable MARINE" by TÜV AUSTRIA Belgium. Made of cotton linter, this material that can be utilized for a diverse array of disposable goods and appli-cations, ranging from cosmetic facial masks, hygienic applications and medical steriliza-tion, to cleaning equipment for high-precision machinery and laboratories. As a further step of expansion, Asahi Kasei is also looking at the European market.
Unlike traditional face sheets that commonly contain plastics, those made from cotton linter tout a 100% natural source, clean production, and fast biodegradability within four weeks that has resonated in the industry where consumers have begun abandoning their usual products in favor of those that are more environmentally friendly.
It has ultra-thin, ultra-soft texture, and not only use for Asian market, but also a lot of big brands use it. It can absorb and hold formulas that rejuvenate skin far more efficiently and stick to every contour of the face from the moment it touches the skin and stays in place. We will customize your own formula and create your own unique vegan, paraben-free and biodegradable sheet mask.
100% Cotton Made in Japan : The sheet made from cotton linter,  which is super soft, thin, and silky fibers.
High moisture retention : 13 times absorption than regular sheet 
Invisible & Smoothing : The sheet is ultra-thin and soft, it can perfect fit to your face, and make your face look invisible, also feeling is extremely gentle.  
Eco-friendly to environment : The Japanese silk mask is biodegradable so it is 100% eco-friendly, and natural. 
This is very good concept for the market trend, we always formulate the vegan, paraben-free, and cruelty-free ingredient with Japanese silk mask, to feature the biodegradable and vegan facial mask. Start your own private label sheet mask . Besides, we do have our sheet mask factory, can provide raw mask for you to fill serum at your facility, and fold the mask for you in the pouch. Contact us now. 
reference article: https://www.globaltextilesource.com/news/sustainable-non-woven-fabric-bemliese-certified-as-marine-biodegradable-by-tuv-austria-belgium-and-eyeing-european-market