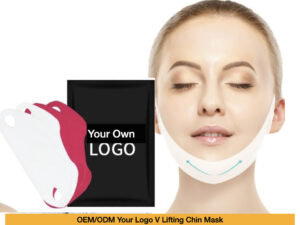 Perfect V-Lifting Shape Chin Mask
To give you the perfect V shape, small chin, to solve the double chin problem, also lift and firm your skin.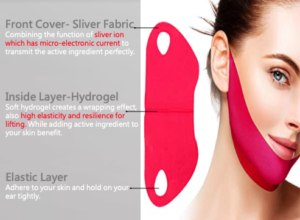 How does the Chin Mask work?
Front Cover- Sliver Fabric
Combining the function of sliver ion which has micro-electronic current to transmit the active ingredient perfectly.
Inside Layer-Hydrogel
Soft hydrogel creates a wrapping effect, also high elasticity and resilience for lifting. While adding active ingredient to your skin benefit.
Active Ingredients in the Hydrogel
Use lots of active ingredients to make lift, firm, Anti-aging & Anti-oxidation. Formulated with collagen, multiple peptide, serves to provide moisture for other skin components. Helps build keratin, a type of protein that keeps your skin firm and healthy, protects against sun damage also fine line, keep skin smooth and moisturized.
Elastic Layer
Adhere to your skin and hold on your ear tightly.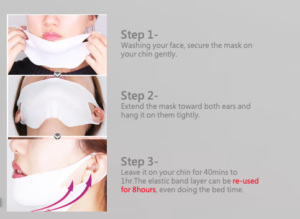 How to use
Step 1-
Washing your face, secure the mask on your chin gently.
Step 2-
Extend the mask toward both ears and hang it on them tightly.
Step 3-
Leave it on your chin for 40mins to 1hr.The elastic band layer can be re-used for 8hours, even doing the bed time.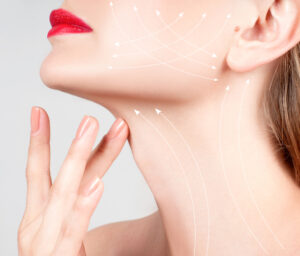 Give you a Power lifting & Tight Up
Enhance skin elastic & moisture.

Promote the blood circulation, stimulate the cell regeneration and repairing.

Avoid sagging and double chin, to strengthen the V-line and tighten your chin perfectly.
We can do OEM your own private label Perfect V-lifting Chin Mask from the pink color, white color, to black color mask from a small MOQ.