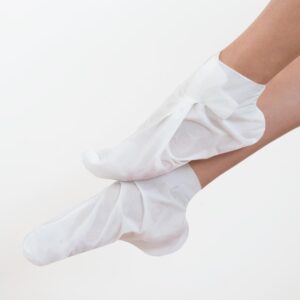 OEM/ODM Peach Smoothing, Hydrating and Brightening Foot Mask with White Soft Pairs
Our foot mask enhance skin elasticity and providing intense moisture. Replenish feet skin nutrition and make your feet soft and brightening. A lot of SPA, Nail Salon, Polished Nail Bar make their own label foot mask and foot mask products for their customers. They provide hand mask and foot mask for their customers use after nail pedicure.  
OEM/ODM Peach Exfoliating, Peeling and Removing Your Dead Skin With Plastic Pairs
Always feel you got a lot of dead skin, old skin and foot cocoon. Specially formulated ingredient to remove your all your feet skin and renew baby skin on your feet in a week. Using Amino Acid, Lactic Acid and Urea to reduces the look of  uneven skin tone, texture, fine lines, and wrinkles, also kills the dead skin, soften skin cell. It is a perfect exfoliating & peeling agent for skin, look at the above picture, your feet will start removing the old skin in a week, day by day. also reborn the new baby feet skin.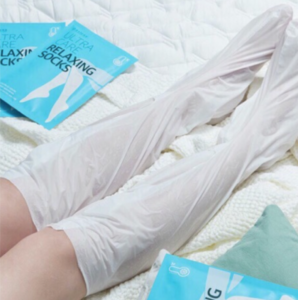 OEM/ODM White Soft Foot Mask & Plastic Shoes Foot Mask
Depends on your preference, we can customize formula and size by your demand. Peach Moisturizing Foot Mask by White Pairs and Peach Exfoliating Foot Mask by Plastic Pairs. Both are hot-selling and very effective. 
Easy to Use
Wear the foot mask for 40 minutes, you will feel soft feet skin. If you do exfoliating pairs your feet dead skin will start removing in the following week; Especially suitable for nail salon, when customers finish their feet pedicure they can wear our foot mask. Remove the foot mask, gently massage the hands to absorb, then wash with water. See more detail in below video or https://www.youtube.com/watch?v=3hGlgzJ7TzI
Make an inquiry now or email us if you want to create your own hand mask and foot mask for your nail salon. OEM/ODM Exfoliating Foot Mask, Private Label Exfoliating Foot Mask. Email: sales@venturescosmetic.com