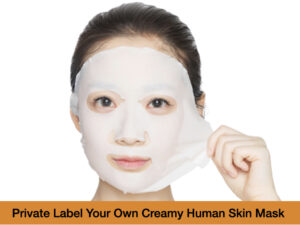 100% Microfiber Human Skin 
1/100 hair fiber

Copy human skin cell, very close to your own skin texture.

Super Soft,

closely fit the skin and cover the grooves of the skin.

Super Smoothness, t

he surface is delicate and smooth.

Excellent moisture locking ability, water-replenishing and

high water-retention ability.
6 Ways to whiten your skin
1. Inhibits the activity of tyrosinase
2. Inhibit melanin production and transfer Improved whitening that has been darkened
3. Restore melanin
4. Promote melanin metabolism Improve sensitive black and sensitive red, make skin soothing and white, restore whitening and radiant skin
5. Lighten dark spots
6. Improve dullness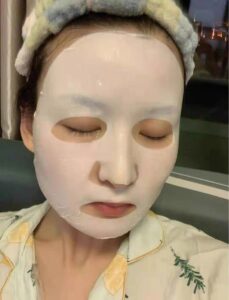 Multiple extracts to Brighten your skin 
Magnolia Sieboldii Plant Stem Cell 
With high % of the Magnolia sieboldii extract, has an excellent effect of inhibiting tyrosinase activity and melanin production, which is as an active ingredient has an excellent skin-whitening effect.
It is a safe skin-brightening ingredient that targets hyperpigmentation and dark spots to reveal a younger looking skin. It does not permanently bleach your skin, it brightens your skin by slowing down the melanin production.
also known as vitamin B3 and nicotinic acid is a water-soluble component of vitamin B complex group that is used for cosmetic skin concerns. Various studies demonstrated that Niacinamide offers multiple skin benefits such as

fading age spots, lightening and whitening of skin.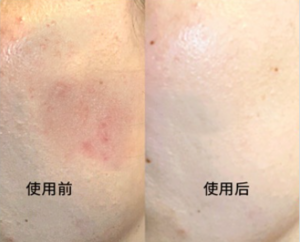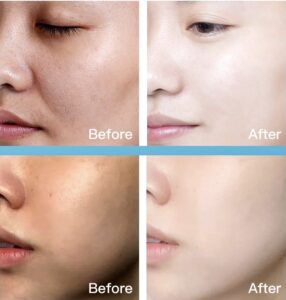 Morus bombycis root extract 
This reduces abnormal pigmentation of skin associated with aging and exposure to harmful UV radiations.
It is popular in skincare due to its high content of Vitamin C which 

naturally brightens and tones the skin.

Its antibacterial properties mean that it works really well on acne-prone skin, too.
Try our amazing creamy human skin mask, it will give you an extremely soft feeling, and make your skin brightening & glowing immediately. Ask us for your own unique formula sheet mask, support small quantity of private label facial mask.