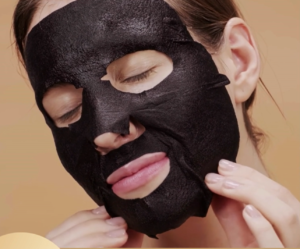 Are you looking for a skincare product that not only provides exceptional results but also allows you to create a unique brand identity? We have an exciting opportunity for you to craft your very own product, the black sheet mask, sourced from the renowned skincare haven of Japan.
The Pinnacle of Japanese Quality: Our black sheet masks hail from Japan, a country known for its cutting-edge skincare science and top-quality ingredients. Japanese skincare manufacturing is a testament to meticulous research and refinement, ensuring that every sheet mask delivers optimal skincare benefits.
The Magic of Black Sheet Masks: Black sheet masks offer a luxurious twist to your skincare routine, alongside a range of miraculous benefits. The black fabric has superior oil and dirt absorption properties, while delivering deep hydration and nourishment, leaving your skin smoother, softer, and more radiant.
Customize Your Unique Sheet Mask: We can help you create a black sheet mask for your exclusive brand. You have the flexibility to tailor the formula to align with your brand's philosophy and goals. Whether you wish to develop a deep-cleansing mask, an antioxidant-rich mask, or another special formulation, we've got you covered.
Enhance Brand Recognition: A black sheet mask bearing your brand name not only offers exceptional skincare but also helps boost your brand's recognition. Black sheet masks are exceptionally unique in the market, drawing more consumers to your brand and making you stand out.
If you're interested in creating your exclusive brand of black sheet masks, please don't hesitate to reach out. We'll be delighted to provide you with more information and support. Let's embark on this exciting skincare journey together, offering your customers a one-of-a-kind skincare experience.