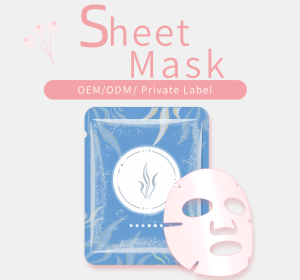 In the ever-evolving world of skincare, finding the perfect sheet mask can be a game-changer. If you're a skincare brand looking for a reliable and versatile sheet mask manufacturer, look no further. Our factory is your one-stop destination for all things sheet masks, offering an array of options to elevate your skincare products and brand.
1. Sheet Masks for Every Need:
At our factory, we take pride in our ability to produce a wide variety of sheet masks. Whether it's facial masks, body masks, or specialty shapes, we have you covered. We also can create your own mold, to customize your sheet mask size. With a keen understanding of the diverse needs of the skincare industry, we offer a vast selection of sheet masks to cater to all your product requirements.
2. Semi-Products for Your Convenience:
We understand the importance of streamlining your production process. That's why we offer semi-products – folded sheet masks in printing sachets – which you can easily fill with your chosen serums or solutions at your own facility. This flexibility allows you to have full control over the formulations and concentrations of your products.
3. Custom Printing:
Your brand identity is essential, and we make it our mission to help you stand out. Our factory offers custom printing options, allowing you to design and personalize your sheet masks. Showcase your brand logo, imagery, and messaging to create a unique and memorable product for your customers. We can print your own logo on sheet, or printing animal sheet, also printing sachet!!
4. Quality Assurance:
Quality is at the heart of everything we do. Our sheet masks are produced using the highest industry standards to ensure safety and effectiveness. From sourcing premium materials to adhering to strict manufacturing protocols, we guarantee that our products meet your quality expectations.
5. Competitive Pricing:
We understand the competitive nature of the skincare industry, and that's why we offer competitive pricing without compromising on quality. With our cost-effective solutions, you can confidently bring your products to market while maintaining your budget.
6. Unparalleled Support:
As your trusted partner, we're here to support you every step of the way. Our team of experts is available to assist you with any questions or concerns, from design and manufacturing to packaging and logistics. Your success is our success, and we're dedicated to helping you achieve your skincare brand goals.
Elevate Your Skincare Brand:
When it comes to sheet masks and skincare products, your brand deserves the best. Our factory is committed to providing you with high-quality sheet masks, semi-products, and customization options that will set your brand apart in the market.
Elevate your skincare brand and expand your product line with the help of our versatile and reliable sheet mask solutions. Contact us today to take the next step toward skincare success. Your journey to a thriving skincare brand begins here.