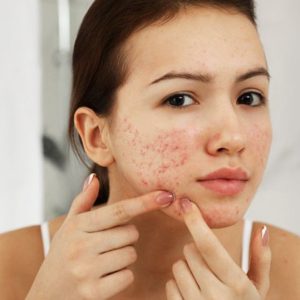 Our best selling and most effective anti-acne serum. Formulated with SalSphere®, LIPACIDETM C8G and multiple moisturizing ingredients to sooth and cure your acne. 
SalSphere® saves your acne 
All-In-One Solution Single system that ultimately addresses multiple symptoms associated with acne.
Treats multiple symptoms associated with acne and blemishes.

It delivers optimal exfoliation, controls sebum, reduces scars and blemishes, and moisturizes skin all at the same time.

Clear appearance ideal for sensitive skin.
LIPACIDE™ C8G 
LIPACIDE™ C8G is an Aminovector™ material composed of glycine, a known skin purifier, combined with Caprylic Acid, known for its antibacterial properties. It offers dermo-protection for the restoration of the skin's acid mantle and purification through dandruff reduction from the inhibition of pytyrosporum ovale and sebum reduction through inhibition of 5-alpha reductase. It is also effective as preservative reducer in formulas and is ideal for sensitive skin. Compliant with Ecocert and China listed.
Reference : https://www.salvona.com/product/salsphere-severe-acne-relief/