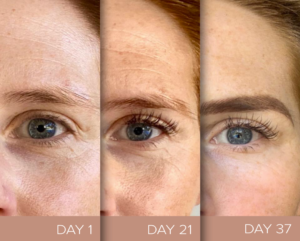 Remove your wrinkle in a month
It has skin benefiting nutrients to drastically rejuvenate tired looking skin, increase skin firmness and make skin glow. Perfect Day and Night anti-aging skincare for those 30-40 years old women. Contains various active ingredients.
Replenish your skin with vitamins, anti‐oxidants from nourishing plants & flower extracts. Combined Phytospherix with skin tightening and elastin/collagen stimulants to help skin regain elasticity and plump. Especially for post-menauposal skin who needs more nourishment, moisture and firmness.
Help with its high hydration and repair potential. Makes the skin look years younger by discouraging brown spots and wrinkling. With added hyaluronic acid (from botanical source), It is ideal for those in their 40s, dry skin, exposed to dry hot climates and for night repair. 
Phytospherix (Glycogen)
PhytoSpherix® significantly improved the appearance of fine lines & wrinkles, making it a powerful anti-aging ingredient. It also showed enhanced performance in reducing hyperpigmentation and significant improvement in evenness of skin tone and smoothness. It can effectively make your skin look more hydrating and brightening.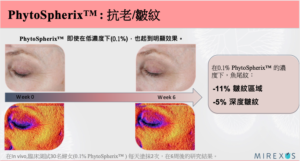 (reduce wrinkle in 6 weeks)
Immediately Lifting & Hydrating
Pullulan
Its ability to provide an instant skin-tightening effect as it adheres to the skin. It is able to quickly form a sheer film that temporarily improves skin's texture and appearance. Pullulan brings an instant lift-up effect.
Hyaluronic Acid
Contains an active moisturizer to support the elasticity of your natural collagen. It is high in moisture to address skin dryness and leave the skin moisturized & healthier.
Allantoin
Keeps your skin moisturized and prevents dryness and irritation, also make your skin calm and sooth.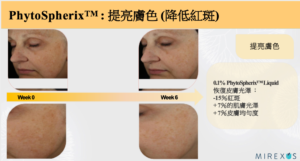 (Brighten Skin tone in 6 weeks)
Anti-inflammatory & Soothing
Glycyrrhiza Glabra (Licorice) Root Extract
Glycyrrhizin is anti-inflammatory, which means less redness and irritation for inflamed, irritated skin. As a rich source of antioxidants, it also offers skin lightening and anti-aging benefits. It protects our skin against free radicals.
Chamomilla Recutita (Matricaria) Flower Extract
Chamomilla recutita flower extract is an oily substance made from the flower of the chamomilla recutita, which helps bind moisture to the skin. It is also an anti-inflammatory and soothing properties.
Panthenol
Vitamin B5 helps to keep skin soft, smooth, and healthy. It also has an anti-inflammatory effect that can help stimulate your skin's healing processes. Deeply hydrating, it helps to keep skin quenched by absorbing moisture from the air.
We can customize your own effective formula, to kill wrinkle, and make your skin firm, lifting. Designed from your preference ingredients, ideal function, and special request. More than 18 years experience lab team, to support you start 0 to your amazing anti-aging skincare products launch!!!