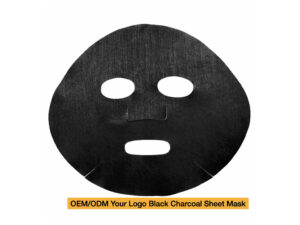 Plant Fiber with 90% Bamboo Charcoal + 10% Natural Tencel
Deep Cleansing, Detoxifying and Purifying Face Mask
Bamboo charcoal fiber has anti-bacteria and anti-oxidation.

Bamboo charcoal fiber can absorb ion, dirt, oil from pore.

Help purify skin, improve dullness, to make glowing & brightening skin.

Promote metabolism & revitalize the skin.

Ulna soft and ultra thin Natural Tencel to make your skin b

reathable.

High water absorption.
Customize your own formula with active ingredients like tea tree oil, hyaluronic acid to create the concept for acne facial mask, oil-control facial mask and detoxing facial mask.