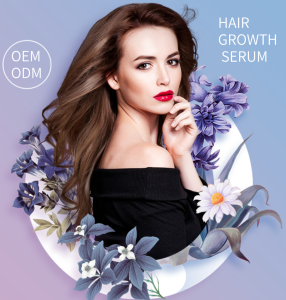 About 80 percent of men and 50 percent of women battle hair loss during their lifetime, and many of us invest a significant amount of time and money fighting it. Luckily, the best hair growth serum can be part of a scalp care routine that results in thicker hair and new hair growth for some people. 
Hair growth serums are designed to revitalize, strengthen, protect and stimulate hair follicles. We can create effective formula, which can strengthens thin and brittle hair for visibly thicker, fuller and healthier looking hair
Hair Growth Serum for people who need to grow hair fast, have thinning hair, pattern baldness, brittle or weak hair, etc. this hair oil serum will reduce hair damage and hair loss by revitalizing the hair from the roots and repair split ends.
Crodabond™ CSA is a 100% naturally derived film-former and adhesive polymer that provides multiple benefits for both hair care and color cosmetic applications. It is able to smooth and seal lifted cuticles, repair split hair fibers, reduce hair color fade, provide long-wear-to-color cosmetic formulations, and act as a natural alternative to petro-based color cosmetic ingredients.
Widelash™ helps eyelashes appear longer, fuller and stronger by promoting hair bulb keratinocyte proliferation and ensuring optimal hair anchorage. It stimulates the synthesis and organization of the adhesion molecules laminin 5 and collagen IV. This product is recommended for mascaras, eyelash conditioners, and eye makeup removers.
BIOENERGIZER™ P BG PF is a mixture of panthenol, a pro-vitamin B5 and of two brown seaweed extracts, the channeled wrack and the oarweed. Panthenol is known to support skin regeneration and soothing. On the other hand, among brown seaweeds, the channeled wrack is one of the most stress-tolerant species. To protect itself vs UVB, it generates efficient contents of both phenols and carotenoids related to a strong antioxidant protection. Finally, the oarweed was traditionally used as a fertilizer and spread on the land. Nowadays, it is mainly used for alginate extraction and incidentally as a vegetable. This active ingredient trio presents therefore interesting properties for scalp nutrition.
Redensyl® is the newest breakthrough against hair loss and the best alternative to hair transplantation. Redensyl® is a synergistic blend of 4 molecules that reactivates the bulge stem cells (ORSc) to favor hair growth. It is the first hair care cosmetic active ingredient based on regenerative medicine researches that gives better results than a surgical procedure for hair transplant in 84 days.
Resulook™ advanced botanical ingredient is a botanical extract from the Myrothamnus flabellifolius resurrection plant intended to revive the appearance of the eyes by improving hair nourishment and anchorage, to promote growth and density of eyelashes and eyebrows with an additional lash lift effect.
SILVERFREE™ re-educates hair bulbs to progressively restore authentic hair pigmentation while offering protection against oxidative damage caused by cell activity and the exposome. It helps everyone maintain their identity and embrace with pride the individuality of their own hair color.SILVERFREE™ can be incorporated at the end of the formulation in all types of hair care products. It is suitable for cold processes.
article reference: https://www.health.com/beauty/hair/best-hair-growth-serums