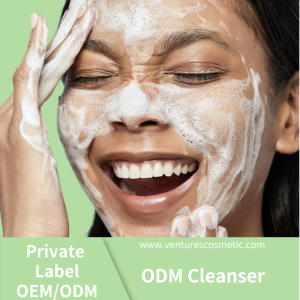 Private Label Your Own Formula Cleanser
In a world filled with hustle and bustle, your skincare routine should be a moment of purity and serenity. That's why we've crafted a vegan amino acid cleanser that is as gentle as it is effective. Say goodbye to harsh chemicals and hello to a cleaner, more radiant complexion.
The Vegan Advantage: Our vegan amino acid cleanser is the epitome of clean skincare. Free from sulfates (SLS), parabens, and synthetic fragrances, it embodies the essence of purity. It's not only good for your skin but also for the planet.
Amino Acids for Nourishment: Amino acids are the building blocks of life, and they play a crucial role in maintaining your skin's health. Our cleanser is formulated with these natural compounds, ensuring your skin is both cleansed and nourished during every wash.
Gentle Yet Effective: Many cleansers on the market can be harsh and drying, leaving your skin feeling stripped of its natural oils. Our vegan cleanser is designed to be gentle, providing a deep cleanse without disrupting your skin's delicate balance.
Suitable for All Skin Types: Whether you have sensitive, oily, dry, or combination skin, our vegan amino acid cleanser is versatile enough to meet your needs. It's the universal solution to clean, refreshed skin.
Eco-Friendly Packaging: In our commitment to sustainability, we've chosen eco-friendly packaging that reduces plastic waste and supports a healthier planet.
Cruelty-Free: Our dedication to ethical practices extends to our stance on animal testing. We are proud to say that our vegan cleanser is cruelty-free, aligning with a compassionate lifestyle.
The Essence of Clean Beauty: With our vegan amino acid cleanser, you're embracing the essence of clean beauty. Pure, gentle, and effective, it's the perfect addition to your daily skincare regimen.
Experience the Difference: Elevate your cleansing routine with our vegan amino acid cleanser. Feel the difference in your skin as it breathes freely, radiates health, and embraces a truly clean, cruelty-free skincare regimen.
If you're ready to experience the refreshing purity of our vegan cleanser, don't hesitate to make it a part of your skincare journey. Clean beauty is here, and it starts with you.