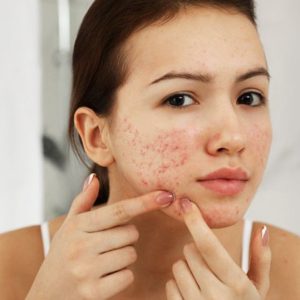 What causes acne skin?
Acne is a skin condition that occurs when your hair follicles become plugged with oil and dead skin cells. It causes whiteheads, blackheads or pimples. Acne is most common among teenagers, though it affects people of all ages. Effective acne treatments are available, but acne can be persistent.
What is the best way to improve your acne skin?
Step One – Deep Cleansing
Soothing Cleansers with Amino Acid are a great choice if you're struggling with cystic acne, you should use our plant extracts cleanser gel. The chemical exfoliant will lightly scrub the skin as it cleanses.
"AMINO ACID" is being recognized as the best and the most gentle facial cleanser ingredients by the world skin specialist experts. Its biggest feature is being very effective for cleaning the skin also it is gentle, skin-friendly, low-irritation, suitable for children and sensitive skin.
Whether produced internally or applied topically, amino acids help to strengthen the immune system, maintain the skin's hydration, resilience and an overall healthy appearance. They protect skin from free-radical damage and reduce signs of aging.
Step Two – Pore Cleansing Bio-cellulose Mask
Deep pore cleansers, and anti-pollution masks, which formulated with tea tree oil, salicylic acid, flower acid, fruit acid, and anti acne ingredients. It can give you sooth your acne, and also the sheet can get your blackhead out, and derive your skin oil. 
Step Three – Anti-Acne Serum
The serum formulated with tea tree oil, patented salicylic acid helps to smooth out acne spots and pits. It helps to improve skin texture and appearance giving it a fresh and bright look.
Step Four – Anti-Acne Gel/Cream/Patch
Anti Acne Gel/Cream or the acne patch is a complete cure for acne, helps heal pimples, acne, blackheads quickly. 
Create your own acne skincare products from us, we do have professional Lab team to support you to formula your own unique goods.