Cleanser is a necessary for your daily skincare routine
Daily facial cleansing removes dirt, excess oil, pollution and unwanted skin cells off of your face. If not cleansed properly, dirt and pollution accumulate at the surface of your skin and could potentially contribute to breakouts, blackheads, dehydration and aging.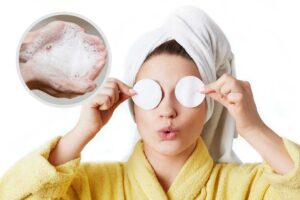 We can do all kind of cleanser for you
Cleansing Gel :  The texture is thickness gel, transparent and clear.

This gently foaming gel cleanser draws out impurities, excess oil and pollutants with a refreshingly light touch.

 For example, La Mer The Cleansing Gel,

Neutrogena Hydro Boost.
Cleansing Foam/Mousse: 

It will make more bubble and feel soften when you use it, this instant, air-light foam cleanser gently removes makeup and surface impurities in seconds to reveal fresh skin. For Example,

Clarins Gentle Renewing Cleansing Mousse,

Curél® Foaming Facial Wash,

Lancôme

MOUSSE RADIANCE Clarifying Self-Foaming Cleanser, CHANEL La Mousse Anti-Pollution Cleansing Cream-to-Foam Cleanser
Cleansing Cream :

The texture is between creamy & foam, a gentle cleanser that purifies even delicate, sensitive skin, drawing out impurities and excess oil, leaving skin soft, hydrated, and healthy looking. For example, 

KIEHL'S ~ CALENDULA DEEP CLEANSING FOAMING FACE WASH, La Mer The Cleansing Foam, La Mer The Cleansing Lotion. 
Amino Acid Cleanser :

Contains 30% amino acid helps hydrate and soothe skin, also

boosts the collagen and elastin production that controls the skin aging process.

Add extra plant extract and hydrating ingredients to nourish skin, prevents dry, and make skin firming.

For example, Perfect Dairy Amino Acid Cleanser and BHK's Amino Acid Gentle Facial Cleanser.
Skin benefit from our cleanser
Prevents Blemishes & Acne- Breakouts: Wash away excess oils that cause acne breakouts,

get rid of unwanted dead skin cells, whiteheads and blackheads.

Nourishing & Brightening: Rich in moisturizing ingredients, like Hyaluronic Acid or Vitamin C, improve the oil balance of the skin,

leaving skin delicate, soft, and elastic.

Suitable for all skin types :

Paraben-Free, Alcohol, Non-irritating, mild and comfortable,

perfectly helps renew skin's texture.
Daily debris is removed to help the complexion maintain its delicate balance, then rinses right off. Skin looks energized, fresh and vibrant. Choose your own preference texture and types of cleanser and label your amazing logo on it, start your own brand cleanser now.