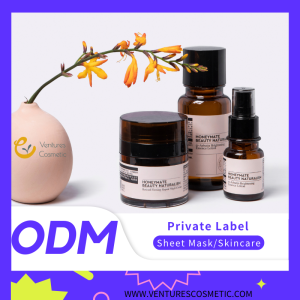 Have you ever dreamy of launching your very own skincare brand? Now, turning that dream into a reality is easier than you ever thought possible, thanks to our comprehensive Turnkey Solution. This unique offering allows you to create a personalized skincare line with customized formulas, logo branding, and packaging that truly represents your brand's identity.
Tailored Formulas: Your brand is unique, and so should be your skincare products. With our Turnkey Solution, you have the power to customize the formulas for your entire skincare line, including facial masks, toners, cleansers, serums, creams, and oils. Create the perfect textures, scents, and skin-loving ingredients that align with your brand's ethos.
Color Your Brand: Skincare is not one-size-fits-all, and neither should your products be. Personalize the colors, scents, and properties of your skincare offerings to cater to a diverse range of customers. Whether you aim to create a line focused on natural, organic ingredients or a range of luxurious, high-performance treatments, the choice is yours.
Brand Identity: Your logo is the face of your brand, and it deserves to be showcased proudly. With our Turnkey Solution, you can prominently feature your logo on the packaging, ensuring that your products are instantly recognizable and memorable.
Packaging That Speaks: Ordinary packaging won't do for your extraordinary brand. Design and customize your skincare product packaging to reflect the essence of your brand. Whether you prefer a sleek and minimalist design or something colorful and vibrant, your packaging will make a strong statement about your brand's identity.
The Complete Skincare Line: Our Turnkey Solution doesn't just cover one or two products—it includes the entire spectrum of skincare. You can create a comprehensive range, from facial masks that rejuvenate the skin to toners that balance and refresh, cleansers that gently cleanse, serums that target specific concerns, creams that hydrate and protect, and oils that nourish and soothe.
Quality Assurance: Quality is paramount, and we understand that. Rest assured that the skincare products developed through our Turnkey Solution adhere to the highest standards. Your customers can trust in the quality and effectiveness of the products you offer.
Your Vision, Our Expertise: We're not just providing a turnkey solution; we're partnering with you to bring your skincare vision to life. Our team of experts will guide you through every step of the process, from formulation to packaging, ensuring that your brand is presented exactly as you envisioned.
Redesign the Skincare Experience: With your own brand, you have the opportunity to redefine the skincare experience for your customers. Create products that cater to a wide audience, embrace diversity, and emphasize individuality. Your brand can inspire and empower individuals to embrace their unique beauty.
A Brand That Stands Out: In the ever-evolving world of skincare, your brand deserves to stand out. Our Turnkey Solution is your ticket to creating a skincare brand that's unique, appealing, and memorable.
Your Dream, Our Expertise: Your dream of launching your own skincare brand is now a reality. Let our Turnkey Solution turn your vision into a flourishing brand that leaves a lasting impression.
Begin Your Skincare Journey: The world is waiting for your distinctive skincare line. Start your skincare journey today with our Turnkey Solution and craft a brand that sets a new standard in skincare excellence.