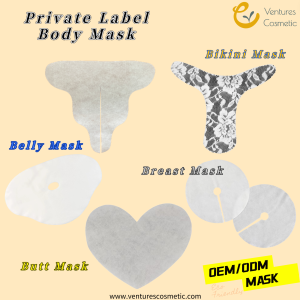 In the world of skincare and self-care, there's a growing recognition that beauty isn't confined to just one area. It's about feeling confident and empowered from head to toe. To help you achieve a holistic approach to beauty, we're excited to introduce our customized formula for Breast Masks. This unique service allows you to create breast masks tailored to your specific needs, empowering you to feel confident, vibrant, and comfortable in your own skin.
The Power of Holistic Beauty
Beauty is more than skin deep; it's about self-acceptance and self-empowerment. Our customized Breast Masks are designed to provide your décolletage with the love and attention it deserves. These masks are crafted to help you maintain the delicate skin of your breasts while addressing your unique concerns.
Why Choose Customizable Breast Masks?
Tailored Solutions: Just as every individual is unique, so are their skincare needs. Customizable breast masks empower you to address your unique concerns, whether it's firming, rejuvenation, or hydration.
Self-Confidence: When you know that your skincare routine is specifically designed for you, it can boost your self-confidence and enhance your overall sense of well-being.
Empowerment: Customizing your breast mask formula empowers you to take control of your beauty and embrace self-love and self-acceptance.
Safe and High-Quality: Our products meet the highest industry standards, ensuring the safety and effectiveness of your breast mask.
The Customization Process
Our customization process is simple and discreet:
Consultation: We engage in a close consultation with you to understand your specific needs and desires for your breast mask.
Formula Development: Based on your consultation, we create a formula that addresses your unique breast care goals.
Packaging: You have the option to choose packaging that matches your personal preferences and brand identity.
Low MOQ: Our low MOQ ensures you can start your breast mask journey without a significant financial commitment.
Your Beauty, Your Way
Your beauty should be as unique as you are. With our customizable Breast Masks, you can embark on a personalized self-care journey that nurtures your skin and empowers you to embrace self-love and self-acceptance.
We're here to support you in achieving the holistic beauty you deserve. If you're ready to elevate your skincare routine and experience the empowerment of self-love and self-acceptance, reach out to us today. Your journey to a more confident, beautiful you starts here.