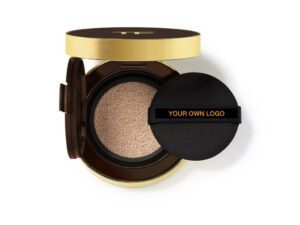 Why Cushion Overbear Foundation and become a leader in the market?
Why every market leader brands start launching cushion powder? Like Dior Forever Cushion Powder, MY ARMANI TO GO CUSHION FOUNDATION,LE CUSHION ENCRE DE PEAU FOUNDATION LAMÉ COLLECTOR and les beiges cushion healthy glow gel touch foundation spf 25. They are hot-selling and leading the market game changer. 
Travel Friendly : The travel factor is probably one of the biggest. It is easier to travel with a compact than heavy glass bottles and brush.

Natural Look :

It makes the foundation formula a little lighter and delivers less product in each dab, and

that sets makeup and gives the complexion a subtle, velvety glow with no powdery effect. Allow for a very sheer, natural application.

Fusion of Skincare & Makeup : Most of cushion powder adds sunscreen ingredients so you can choose SPF15+ or SPF 30+, also adds some hydration & anti-aging ingredients like hyaluronic acid, Q10 or peptide. It also improves its look, feel, and health. We can customize your own preference SPF and ingredients for different skin type & function. 
How To Use?
It is not going to replace the foundation or BB cream. Usually we use BB cream and foundation first, then all your makeup routines, the last step to cover cushion powder to make a natural and sheet look. Also, you can remake your makeup when you are outside, it is the best way to recover your makeup when your foundation lose.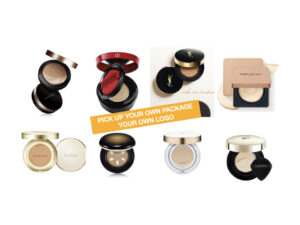 Choose Your Own Package, Your Own design and Your Own LOGO
Offers various and full line of cushion powder containers from our contract manufacturing with reliable, high-end quality and wholesale price. Like above pictures, you can choose your preference Dior or YSL Cushion Pack to Put your own LOGO.
Let's customize your own private label cushion powder and OEM/ODM your own cushion powder, from a LOW MOQ. Contact us NOW!!!